Temporary building configurator for manufacturers
Configure temporary PVC building. Let your customers make the design and get better sales leads.
We have collected all the most essential features to this tool to make designing experience fast and smooth. We always tailor the tool to match the customer's products and features.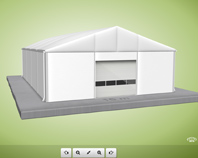 Walls and ceilings, PVC, steel and sandwich-panels
Measures: width, height and depth of the building
Insulation style matching the need
Roof styles
Choose span and place items
Sectional doors
Windows and personnel doors
Colors for walls doors flashings and accessories
Rain water system
Roof windows and PVC wall lights