We have been in Sales Configurator business over 10 years, yet our first Industrial Configurators we created already in 1985 – over 30 years ago.
As a recognition to our work we have received Cannes Lions Medaillon Bronze, and Facebook First Price nominations.
Our Credit rating is AAA, best in industry that only 2% of companies reach. So in short: We deliver high quality at agreed schedule.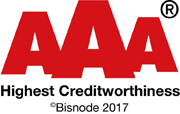 Thoughts from our respective Customers
"… everything works easily with a browser"

"… reduced number of iterations can save processing time up to weeks"

"… sales configurator is a clear advantage than what we had before"

"… RFQ:s growth rate is about 30% per month"

"… our ERP was slow and limited but now I can browse reports that I need, with my iPad"

"… monthly fee suits us. We pay as we go"