We have been in Sales Configurator business over 10 years, yet our first Industrial Configurators we created already in 1985 – over 30 years ago.
As a recognition to our work we have received Cannes Lions Medaillon Bronze, and Facebook First Price nominations.
Configure 1st is featured in Gartner Group's Innovation Insight for Visual Configuration report 2020 as one of 23 global leading developers of today. Report presents 13 representative pictures, one of ours. (Gartner Group is World's largest forecasting company for mid to large enterprises).
Our Credit rating is AAA, best in industry that only 2% of companies reach. So in short: We deliver high quality at agreed schedule.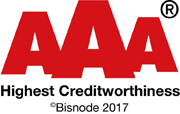 Thoughts from our respective Customers
"… everything works easily with a browser"

"… reduced number of iterations can save processing time up to weeks"

"… sales configurator is a clear advantage than what we had before"

"… RFQ:s growth rate is about 30% per month"

"… our ERP was slow and limited but now I can browse reports that I need, with my iPad"

"… monthly fee suits us. We pay as we go"